Skydive Spaceland-Clewiston is located on the Airglades Airport in Clewiston, Florida, just 4 miles south of Lake Okeechobee. Get directions below.
If you need a ride here, try Uber/Lyft or Yellow Cab. If you are using a ride service, make sure you have a return trip set up before you are dropped off!
Are you flying here in your own plane?
---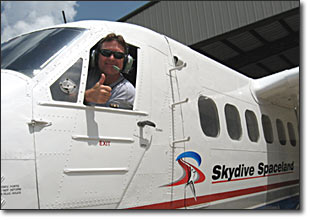 For those of you flying into Skydive Spaceland-Clewiston in your private plane, here is the location:
Airglades Airport
1090 Airglades Blvd.
Clewiston, FL 33440
Phone: 863-983-6151
NOTE: Pilots must contact management via telephone before arrival for landing instructions
Identifier: 21S
Latitude: N 26° 44′ 6.6688″
Longitude: W 81° 3′ 0.9448″
**Listen for parachute activity on 123.05 (Unicom for pilots)
AWOS (weather briefing) is 124.175 or call 863-983-7020